I thought I would do a post for Tomato Tuesday about the varieties I am growing this year. I listed below my grow list for my Home Garden and Community Garden Plots. I started my dwarf varieties on February 23rd and the rest of my varieties were sown on March 29th. I will be planting them outside into my gardens the middle of May. I have many new varieties to try this year thanks to all the seed trading I did over the winter. I traded seeds with gardeners overseas this year, which was very exciting. I will be doing future Tomato Tuesday posts about each of the varieties at the end of the season.


Cherries:
Sunrise Bumblebee
Iva's Red Berry
Lucky Tiger
Carbon Copy
Dwarfs:
Uluru Ochre
Pit Viper
Wild Fred
Sweet Adelaide
Plum/Paste:
Streak Lightning
Orange Banana
Wessel's Purple Pride
Smiley Worms
Justyna
Smoky Mountain
Small,Medium,Large:
Pennheart
Bradley
Carneal Tiger
Sailor's Luck
Heshpole
Janet's Jacinthe Jewel
Everette's Rusty Oxheart
Copper Penny
Wes
Noire Charbonneuse
Gail
Banded Amazon
Mexico
BKX
Pink Siberian Tiger
Green Copia
Le Cadero
Surpriz
Lithium Sunset
Damascus Steel
Wine Jug
Copper River


Home Garden:

Dwarfs:
Shamrock
Arctic Rose
Utyonok
Jackass Yellow
CT Large Red
Chocolate Lightning
Dwarf Purple Heart
CT Striped Plum
Shadow Boxing
Patio Song
Grinch

Cherries:
Angora Super Sweet
Sinister Minister

Med/Large Varieties:
Missouri Rose
Royal Hillbilly
Spudatula
Pink Lemon
Dark Copia Heart
Buffalo Soldier
Red Barn
Sgt. Peppers
NPS x Sgt. Peppers
Reinhard Green Heart
Dolly Parton
Texwine
Grosse Verte Rose
P20 x Beauty King
Captain Lucky
Marie Antoinette
The Thong
Spudayellow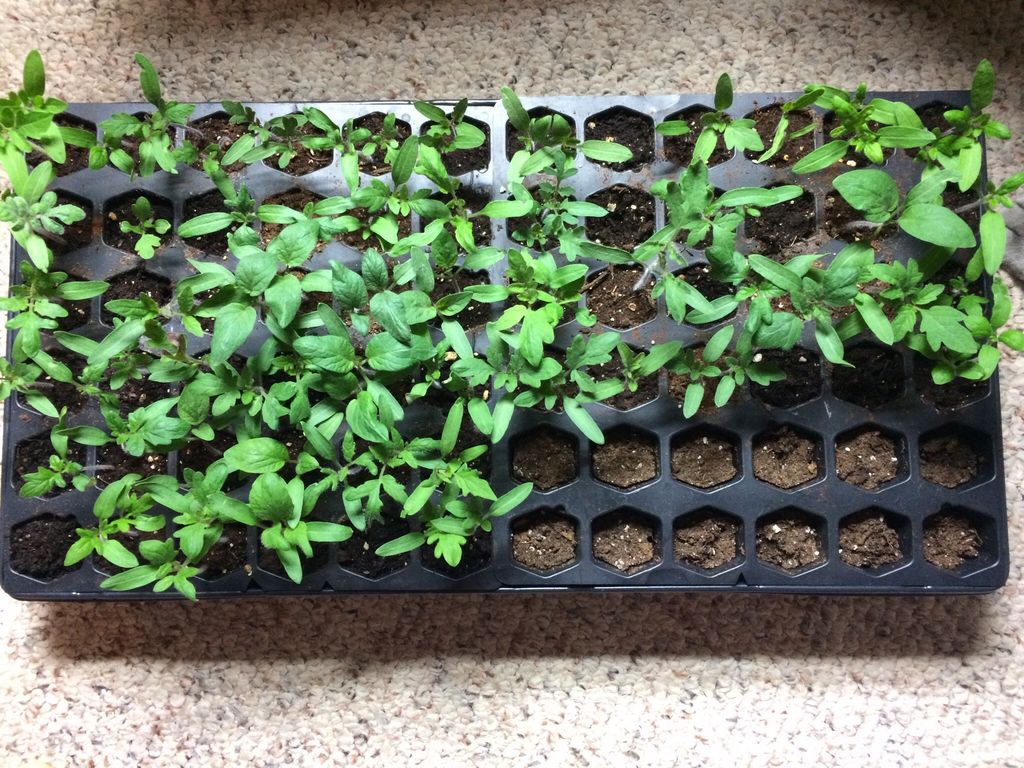 Seedlings started on 3/29. I will be transplanting them into individual cups
this week.
Dwarf plants started on 2/23
Dwarf plants started 2/23
Thanks for taking a look at my Tomato Tuesday post!
Stop by next week to see which tomato variety I will be spotlighting from my 2014 garden.